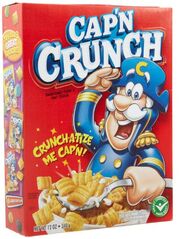 Cap'n Crunch is a breakfast
cereal
made by
Quaker Oats
. Cap'n Crunch is made of sweetened corn and oat pieces cut up into squares.
Since the start of the cereal, the mascot has been Cap'n Horatio Magellan Crunch.
Variations
Edit
There have been numerous variations of Cap'n Crunch over the years, mostly based around the shapes of the pieces of cereal. The major varations include Cap'n Crunch's Peanut Butter Crunch and Cap'n Crunch's Crunch Berries. Other variations include "Oops, All Berries" which only has the crunch berries, and none of the traditional corn and oat squares.