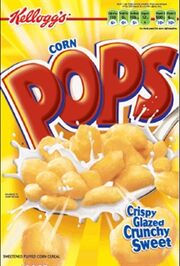 Corn Pops is a crunchy, sweetened pooped-up corn cereal made by Kellogg's. The name of the cereal originally was Sugar Pops, but the Sugar was dropped from the title in the mid 80s.
The original mascot for Corn Pops was Woody Woodpecker from the first day of the cereal to 1967. After that, a prairie dog dressed up like a cowboy called "Sugar Pops Pete." The next mascot was the "Whippersnapper," who was a live-action cowboy. The Whippersnapper lasted for nine years until 1977. From 1980 to 1986 the mascot was a female porcupine named Poppy. Next came a live-action person in a Corn Pops suit. Presently, the Corn Pops mascot is the Sweet Toothasaur.
Variations
Edit
There is only one variation to Corn Pops, and that is Chocolate Peanut Butter Pops.
Ad blocker interference detected!
Wikia is a free-to-use site that makes money from advertising. We have a modified experience for viewers using ad blockers

Wikia is not accessible if you've made further modifications. Remove the custom ad blocker rule(s) and the page will load as expected.