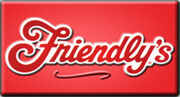 Friendly's is a restaurant chain best known for its
ice cream
. They serve many different types of sundaes and other ice cream based dishes. Friendly's ice cream is also avaiable for sale at the restaurants, allowing customers to take the products home with them. The Friendly's headquarters is located in Wilbraham, MA.
Ad blocker interference detected!
Wikia is a free-to-use site that makes money from advertising. We have a modified experience for viewers using ad blockers

Wikia is not accessible if you've made further modifications. Remove the custom ad blocker rule(s) and the page will load as expected.