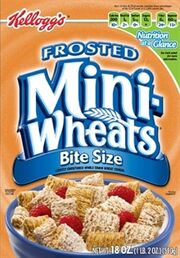 Frosted Mini-Wheats is a
cereal
made by
Kellogg's
. It consists of shredded wheat in bite-sized squares and a small amount of frosting on one side.
The current mascot for Frosted Mini-Wheats is a computer generated mini-wheat.
Variations
Edit
There are currently many variations of Frosted Mini-Wheats on the market, all related to the flavor of frosting. These flavors include Strawberry Delight, Brown Sugar, Blueberry Muffin, Cinnamon Streusel, Chocolate, Maple and Brown Sugar, Vanilla Delight, and Touch of Fruit in the Middle Mixed Berry (which has a mixed berry filling in them).
Ad blocker interference detected!
Wikia is a free-to-use site that makes money from advertising. We have a modified experience for viewers using ad blockers

Wikia is not accessible if you've made further modifications. Remove the custom ad blocker rule(s) and the page will load as expected.