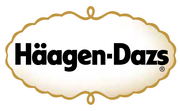 Häagen-Dazs is a brand of "super-premium"
ice cream
that is distributed in the United States by
Dreyer's
. They use no emulsifiers or stabilizers other than egg yolks, and the ice cream has a high butterfat content. This, paired with the small amounts of air that are used in the process, create a very dense ice cream. January 20, 2010
Ad blocker interference detected!
Wikia is a free-to-use site that makes money from advertising. We have a modified experience for viewers using ad blockers

Wikia is not accessible if you've made further modifications. Remove the custom ad blocker rule(s) and the page will load as expected.