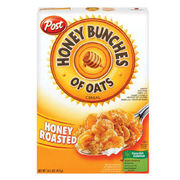 Honey Bunches of Oats is a
cereal
produced by
Post
. It contains three different types of flakes, corn flakes, frosted flakes, and honey flakes, and the famous oat clusters or "bunches."
Variations
Edit
There are eleven different kinds of Honey Bunches of Oats. They are Honey Roasted, With Almonds, With Real Strawberries, With Real Peaches, With Cinnamon Bunches, With Vanilla Bunches, With Chocolate Bunches, With Pecan Bunches, Raisin Medley, With Apples and Cinnamon Bunches and With Banana Bunches.
There is also a variation called "Just Bunches" which gets rid of the flakes and only contains the oat bunches. Just Bunches comes in its own varieties including Honey Roasted, and Cinnamon Bunches.
Ad blocker interference detected!
Wikia is a free-to-use site that makes money from advertising. We have a modified experience for viewers using ad blockers

Wikia is not accessible if you've made further modifications. Remove the custom ad blocker rule(s) and the page will load as expected.