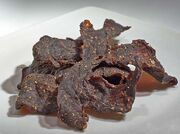 Jerky consists of meat that has no fat on it and has been dried. Usually the meat has been marinated or rubbed in seasonings before being dried, but sometimes the meat is only treated with salt. Although Jerky is traditionally spicy and salty, some marinades can give the jerky a sweet taste.
Jerky Brands
Edit
Ad blocker interference detected!
Wikia is a free-to-use site that makes money from advertising. We have a modified experience for viewers using ad blockers

Wikia is not accessible if you've made further modifications. Remove the custom ad blocker rule(s) and the page will load as expected.