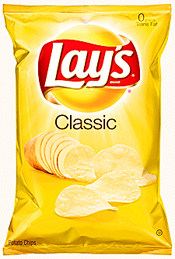 Lay's is a brand of
potato chip
produced by
Frito-Lay
. The chips are made the traditional way of slicing a potato thinly and frying the slices in oil.
Variations
Edit
Lay's has multiple flavors in America as well as overseas. Even though the biggest seller is still the original version, Lay's introduced a barbeque flavor in 1965. Other flavors include salt and vinegar, sour cream and onion, wavy, ketchup, dill pickle, Limón, cheddar and sour cream, and many others.
Ad blocker interference detected!
Wikia is a free-to-use site that makes money from advertising. We have a modified experience for viewers using ad blockers

Wikia is not accessible if you've made further modifications. Remove the custom ad blocker rule(s) and the page will load as expected.