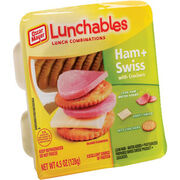 Lunchables is a snack made by Kraft Foods that is generally eaten at lunch by kids. Lunchables usually come with crackers, cheese, and a lunch meat that can be assembled into mini sandwiches. There is also usually a drink and a dessert, but smaller Lunchables can be bought that do not include the drink and dessert.
Variations
Edit
Several different types of Lunchables exist on the market today. These include nachos, pizza, cracker stackers, flatbread and sub sandwiches, chicken nuggets, and chicken stirps.
Ad blocker interference detected!
Wikia is a free-to-use site that makes money from advertising. We have a modified experience for viewers using ad blockers

Wikia is not accessible if you've made further modifications. Remove the custom ad blocker rule(s) and the page will load as expected.