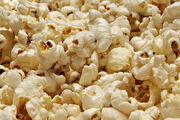 Popcorn is made by heating up corn kernels until they pop. The resulting popcorn is then flavored, usually with butter and salt. Popcorn has also been flavored with other ingredients, most notably cheese powder or caramel. Another way of preparation is by cooking the corn kernels in a kettle with sugar. This gives the popcorn a sweet and salty taste.
The most common preparation of popcorn is in prepackaged microwavable bags. Popcorn also can come pre-popped or in jars of kernels that you can then pop in a popcorn maker or over an open flame.
Brands of Popcorn
Edit
Ad blocker interference detected!
Wikia is a free-to-use site that makes money from advertising. We have a modified experience for viewers using ad blockers

Wikia is not accessible if you've made further modifications. Remove the custom ad blocker rule(s) and the page will load as expected.