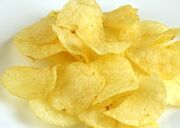 Potato Chips are a very famous snack all over the world. They are known as potato chips, chips, or crisps depending on the country. Traditionally, potato chips are thinly sliced potatos, fried in oil, then seasoned with salt. Other varieties of chips exist where the chip is baked instead of fried, or mixed in different flavors than salt.
Potato Chip Brands
Edit
Ad blocker interference detected!
Wikia is a free-to-use site that makes money from advertising. We have a modified experience for viewers using ad blockers

Wikia is not accessible if you've made further modifications. Remove the custom ad blocker rule(s) and the page will load as expected.