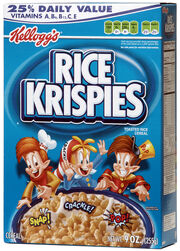 Rice Krispies is a
cereal
made by
Kellogg's
. It consists of puffed rice. Because of the air pockets in the puffed rice, the addition of milk produces the now famous "snap, crackle and pop" sounds.
The mascots for Rice Krispies are the three elves Snap, Crackle, and Pop. They were the first and longest running cartoon mascots for Kellogg's cereals.
Variations
Edit
The variations of the cereal that are currently on the market are Cocoa Krispies and Rice Krispies Treats cereal. Discontinued variations include Razzle Dazzle Rice Krispies, Berry Rice Krispies and Rice Krispies with Marshmallow.
Ad blocker interference detected!
Wikia is a free-to-use site that makes money from advertising. We have a modified experience for viewers using ad blockers

Wikia is not accessible if you've made further modifications. Remove the custom ad blocker rule(s) and the page will load as expected.