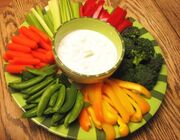 Vegetables make a fantastic snack. Perfect for a party, vegetables can be served in small portions. Vegetables usually are served sliced up along with a dip. The most common vegetables that are used for snacks include carrots, celery, bell peppers, and broccoli.
Vegetables also serve as ingredients for a multitude of other snacks. Vegetables make great toppers on crackers and pair nicely with peanut butter. Celery with peanut butter combines to make Ants on a Log.
Ad blocker interference detected!
Wikia is a free-to-use site that makes money from advertising. We have a modified experience for viewers using ad blockers

Wikia is not accessible if you've made further modifications. Remove the custom ad blocker rule(s) and the page will load as expected.