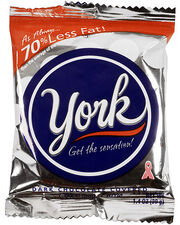 York Peppermint Patties are
candy bars
that are produced by
Hershey
. They consist of a peppermint disk covered in dark chocolate.
Variations
Edit
Variations of York Peppermint Patties are almost all related to the shape of the pattie. Most are holiday themed, with a bat shape for Halloween, heart shape for Valentine's Day and a snowflake shape during the winter months. There is also the York Chocolate Truffle with a chocolate-mint center, and York Bites, M&M's-style mint candies.
Ad blocker interference detected!
Wikia is a free-to-use site that makes money from advertising. We have a modified experience for viewers using ad blockers

Wikia is not accessible if you've made further modifications. Remove the custom ad blocker rule(s) and the page will load as expected.